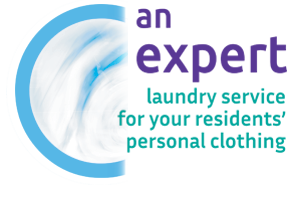 Customer testimonials
« We would like to thank all our customers for choosing us, and we encourage future customers to join us soon »
Bulle de Linge.
Ms. P.
Nursing home director
What is your primary expectation from an external company providing a laundry service for residents?
Compliance with laundry hygiene standards and the use of operational "best practices".
The laundry is protected from any contamination and delivered straight to the rooms.
Of course, we expect a high-quality service for the wellbeing of our residents, which is the case.
What benefits do you receive from Bulle de Linge?
Simplicity when a new resident arrives as all their laundry is marked.
But also the "dry cleaning-style" service: clothes are returned on a hanger or folded, for each individual resident,
in plastic wrapping. In any event, we think it is essential to form a real partnership based on mutual trust and responsibility.
What do residents and their family think about this service?
The service is highly appreciated by residents and their family.
They are reassured by the tracked service and laundry management service.
Also, the digital traceability allows us to check the service and provide answers if there are any doubts or questions.
Mr. L.
Nursing home director
Why did you choose to outsource your laundry service?
Quality objective no. 3 of our tripartite agreement relates to a "professional" laundry service.
We carried out a study comparing in-house and external laundry services, taking into account the economic aspects but also the quality aspect of the service.
We were happy with the in-house service, but there were various issues. Firstly, we were required to invest in equipment and arrange our facilities to comply with RABC requirements.
Secondly, property costs required us to reduce the areas dedicated to "logistics" to allocate them to other resident activities.
Finally, it was difficult to manage staff for laundry tasks.
It was complex to organise cover staff if anyone was absent, as we have small teams.
So after an in-depth analysis, we decided to outsource our resident laundry service.
We chose Bulle de Linge as it is a service provider which we knew and we were aware that they had developed this service in collaboration with establishments to closely meet their needs.
What do you gain from your collaboration with Bulle de Linge?
The service is definitely much more credible to residents and their families.
We benefit from more thorough monitoring, notably thanks to traceability:
monitoring washing, managing outfits.
We are happy with our choice.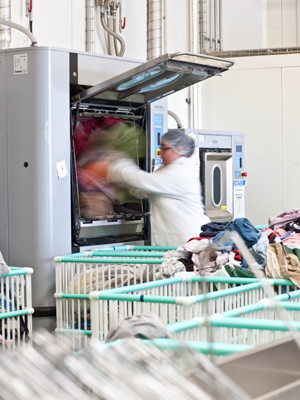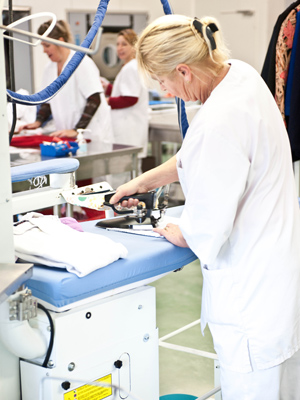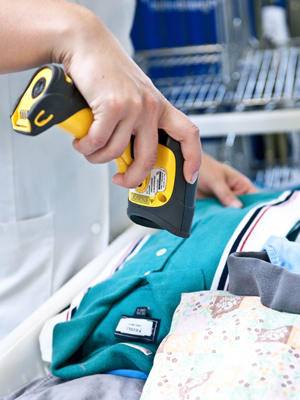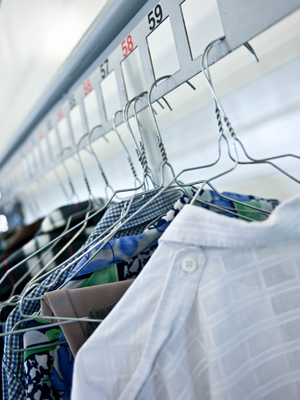 Ms. S.
Senior nurse at a hospital
What benefits do you receive from Bulle de Linge?
We can sense the family atmosphere in your teams and we really appreciate that.
Everyone I speak to, from the identification manager through to the driver, are friendly, listen carefully and are responsive.
The collaboration is personalised, like the individual packages we receive.
This really helps contribute to our objective to offer individualised care.
How would you mark clothing previously?
What has changed with Bulle de Linge marking?
We ordered cloth labels which we asked the families to sew into their parents' clothes.
It was hard work, both in terms of time spent, and emotionally for the children of residents,
as it reminded them of their parents sewing labels into their clothes before starting school, for example.
Your marking process really helps them, and it also helps us with residents who do not have a family.
Also your marking doesn't get in the way at all, it's quite discreet. And the one week turnaround
is no longer than the time spent by families.
What do you think of our customer area, Webbulle?
It's a fantastic tool as it allows us to view clothing and transport to the unit almost in real time.
I use it regularly and it allows me to provide a rapid response to families, which we were not necessarily able to do before.
Also it's quite easy to use, so I was able to train a healthcare assistant who might cover for me when I am away.
Mr. H.
Nursing home director
Why did you choose to outsource your resident laundry service?
RABC and technical constraints led to regulations and expertise which the establishment could no longer provide.
It required increasingly qualified staff, expensive equipment and space which we would have preferred to provide
for residents to launch new activities to improve the establishment's offering.
The expertise unique to each task became more specific and so we decided to look for a trusted partner.
What is your primary expectation from an external company providing a laundry service for residents?
In brief: traceability, cleanliness and adapting to our site's operational constraints.
We need to be able to rely on the partner, particularly as we give them personal items belonging to our residents.
The partner is indirectly playing a role in the residents' private lives.
So we ask for them to be discreet and flawless, as any issues directly affect the credibility and reputation of our establishment.
What do you gain from your collaboration with Bulle de Linge?
Peace of mind about laundry.
The collaboration has allowed us to save time and deploy resources elsewhere to benefit our residents.
Do you have advice or a recommendation for establishments thinking about outsourcing their resident laundry service?
The challenge is to establish a trusted relationship with the Bulle de Linge contact.
It is also vital to calculate the cost price of the establishment's "laundry" service, not forgetting to consider the real cost
of human resources and other resources which are often forgotten, as they get hidden amongst other operating expenses.
Since RABC standards are becoming inevitable, it is time to consider each person's skills:
handling resident laundry is a task which requires an increasing amount of expertise.